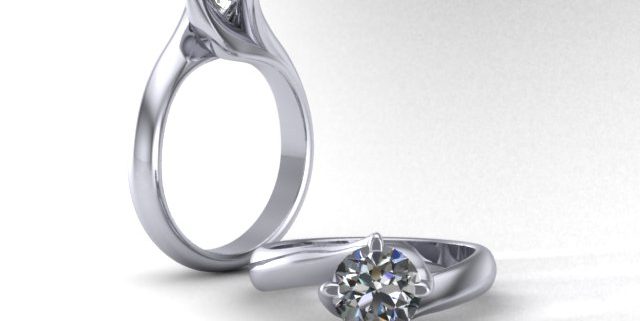 Custom Engagement Rings
As the leading wedding and engagement ring jewellers in Brisbane, at Ashley Douglas, we make things to last, not for a price and we understand that the hunt for the perfect one-of-a-kind ring is an important milestone in one's life.
We're a Brisbane City-based family business with over 100 years of collective experience and we've made the design and creation of custom engagement rings and wedding bands our life's work. We understand that in selecting a ring for your beloved you may want something unique which is why we work closely with you to ensure your dreams become reality.
Our master craftsmen specialise in bespoke engagement rings that combine the finest materials and gemstones with time-honoured techniques. Whether you're looking for a bespoke diamond and platinum engagement ring or a piece that bucks tradition, we want to help.
Working with Ashley Douglas on a handcrafted custom engagement ring in Brisbane
We promise the highest quality and attention to detail at Ashley Douglas, manufacturing everything in our workshop in the heritage-listed Brisbane Arcade on the Queen Street Mall or with local Australian manufacturers.
On starting your custom engagement ring journey we encourage you to book a consultation with our team who are passionate about bringing your ideas to life and creating a stunning bespoke engagement ring that reflects your love story.
In meeting with our team we can help you determine what styles, designs and current trends may be right for your custom engagement ring. For further inspiration, we also have an extensive range on hand to help you visualise your preferences. Next, our master craftsmen will translate your ideas into a technical drawing of your bespoke engagement ring which can be fine-tuned according to your wishes.
To reflect individuality and personal style, our engagement ring designs are fully customisable, including the metal (platinum, white and yellow gold), and the quality, colour and size of the diamond. We also offer eco-friendly, ethical and conflict-free diamond sourcing and black diamond options for those who want something distinctive.
We source only the highest-quality materials, diamonds and gemstones at Ashley Douglas, with access to the Western Australian suppliers of the rare and stunning Argyle pink and red diamonds as well as Australia's fine blue sapphires. If you're after a bolder, more vivid stone we also have long-established connections to the world's finest Burmese rubies, Ceylon sapphires and tanzanites.
Once you have selected your desired precious materials, our master craftsmen will bring your vision to life, a stunning and truly bespoke engagement ring that will give you all the confidence you need to get down on one knee.
When only truly unique diamond engagement ring will do
We offer a wide range of services at our Brisbane CBD studio, including custom engagement rings, custom wedding rings, and diamond certification.
Our team understands that sometimes only an exceptional, bespoke engagement ring crafted from the most precious materials will do. If you're looking for that perfect piece of custom jewellery in Brisbane, have any questions about our finance options with ZipMoney or want to leave us a review, please get in touch.
Display 60 Products per page