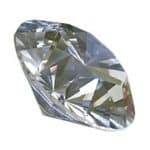 Shopping for an engagement ring as unique, timeless and guilt-free as your love for one another? An eco-friendly engagement ring may be the perfect symbol of your love as well as the ideals and values you both share.
Synthetic diamond engagement rings are relatively new here in Australia, but they're proving immensely popular among couples searching for ethical, eco-friendly jewellery with no mining involved. Exquisite man-made diamonds look and feel just like natural diamonds of comparable size and quality because they're made of the same carbon atoms, but are lab-grown rather than naturally developed beneath the earth's surface.
While slightly more affordable than rings set with natural white diamonds , synthetic diamond engagement rings still represent excellent value and are available in all shapes and cuts — princess, round, oval, emerald, marquise and many more. Eco-friendly diamond engagement rings are also just as alluring and elegant as traditional diamond engagement rings when meticulously handcrafted by a master jeweller who accurately interprets your ideas to produce a piece with complete design integrity.
Ashley Douglas Jewellers offers an exceptional collection of cultured diamond engagement rings, all of which are completely customisable to match your preferences and crafted to the highest standards at our Brisbane Arcade studio.
Looking for ethical, environmentally-responsible wedding and anniversary jewellery? Our master jewellers also handcraft man-made diamond wedding ring sets and diamond eternity bands for sale Australia-wide. A select range of simulated diamond rings is also available.