Custom Ladies
Engagement Rings
As a leading custom manufacturing jeweller in Brisbane, Ashley Douglas specialises in the design and creation of custom engagement rings and wedding bands.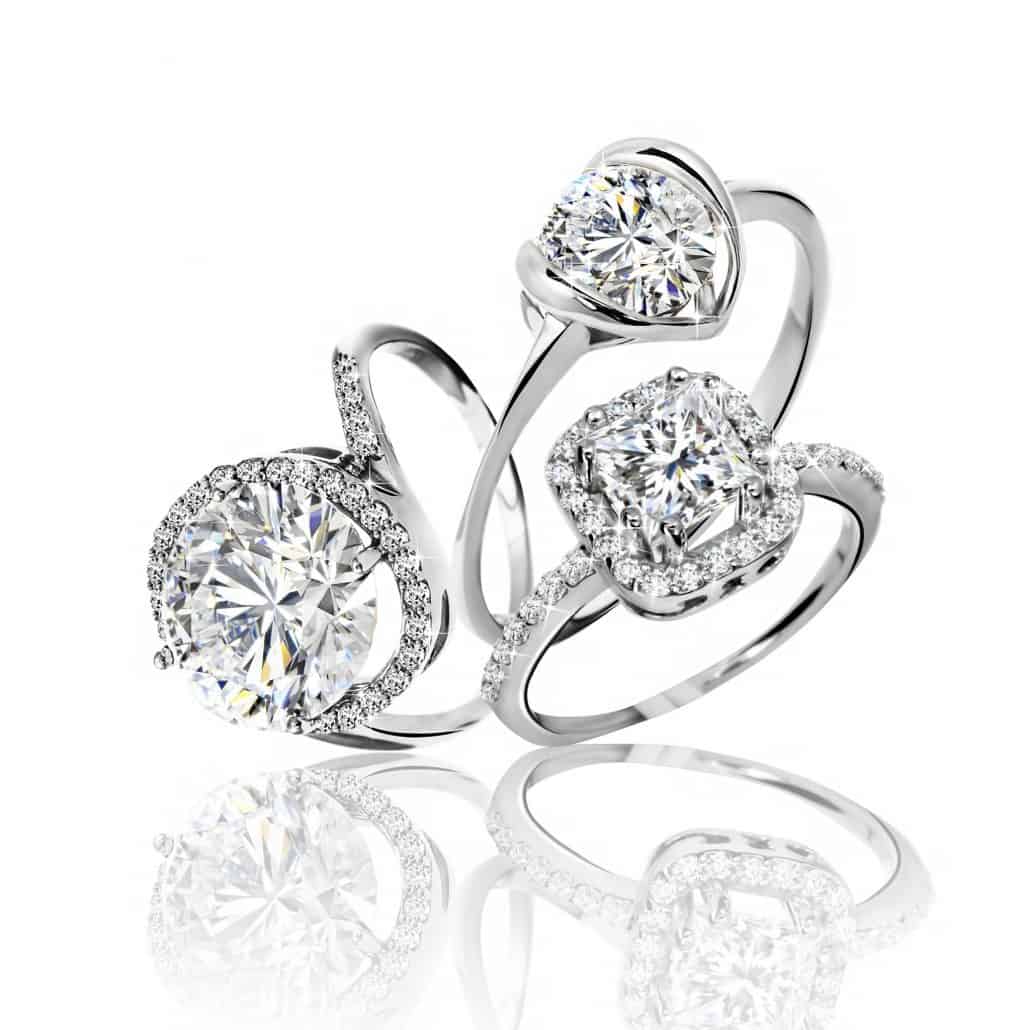 Combining the finest materials and gemstones with time-honoured techniques, our master craftsmen produce exquisite engagement and wedding jewellery.
Ashley and Doug design and manufacture all bespoke engagement rings in our Brisbane studio, ensuring the design of your diamond engagement ring is as unique and as exceptional as her.
To reflect individuality and personal style, each engagement ring design is fully customisable to your specifications, including the metal (white gold, yellow gold and platinum), and the quality, colour and size of the diamond. Along with exquisite engagement rings set with natural diamonds, we also offer a beautiful selection of black diamond and lab grown diamond engagement rings.
Just as rare, but offering a distinctly different sense of timelessness and uniqueness, black diamonds are a fashionable choice for engagement rings. With a modern beauty that's both captivating and mystic, black diamonds are an elegant gemstone with a more subtle shimmer and shine than colourless diamonds.
Your selection of black and colourless diamonds can be set together in a ring, creating a dynamic contrast that heightens the colourless diamond's brilliance.
Book an appointment at our Brisbane CBD studio to meet with our master craftsmen and discuss your ideas for the perfect custom-made diamond engagement ring.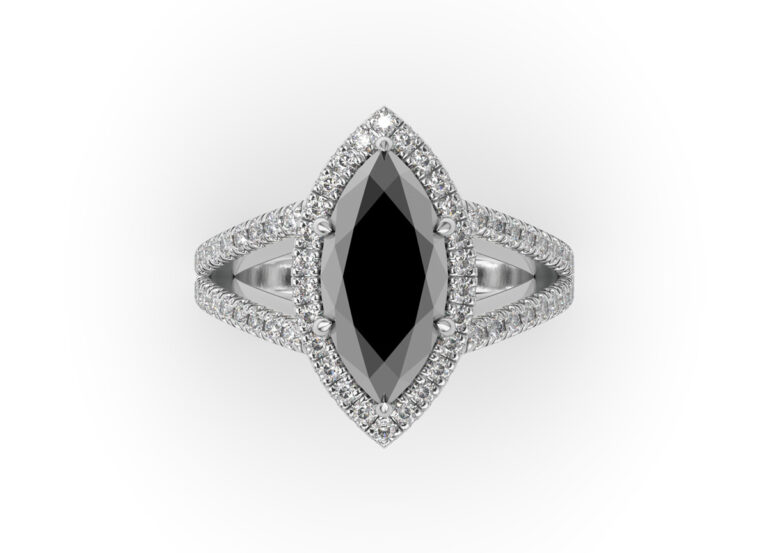 Cushion cut diamonds are cut with large facets, which allow them to catch the light and give them as much brilliance as possible. This cut results in rounded edges, which gives them a soft, dreamy style with vintage appeal. It's no surprise that cushion cut engagement rings are so popular at the moment!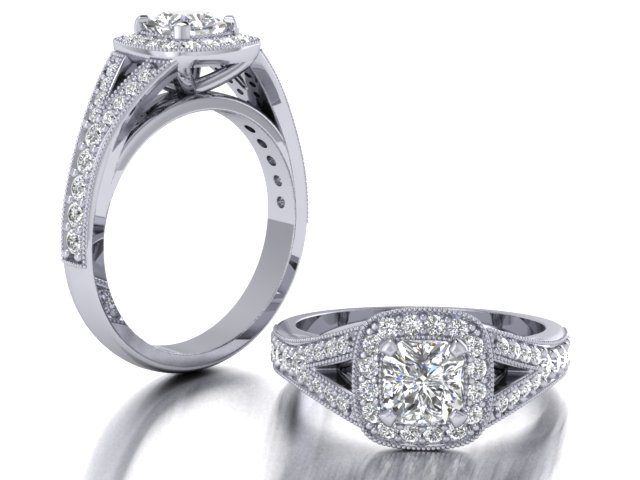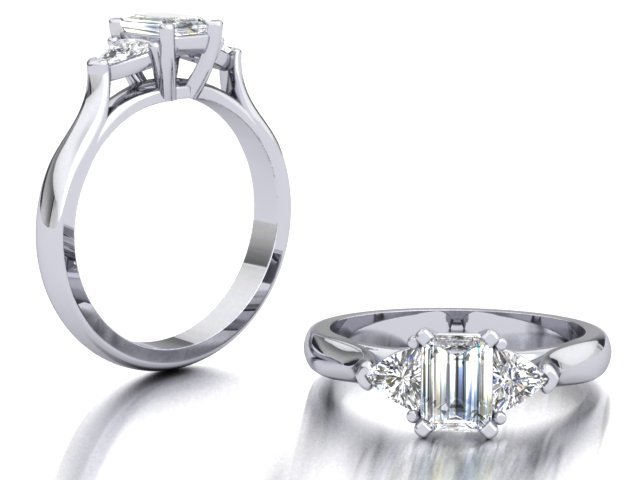 If you're looking for a unique emerald cut engagement ring in Brisbane, a custom-made ring from Ashley Douglas will truly demonstrate your love and commitment. With over 70 years' collective experience designing and making beautiful bespoke jewellery to suit all tastes, we have all the expertise you need when it comes to creating stunning emerald cut engagement rings in Brisbane.
Heart shape engagement rings usually come in one of two styles. You can opt for a heart-shaped solitaire diamond, or you can choose a cluster ring with many smaller diamonds set into a heart shape.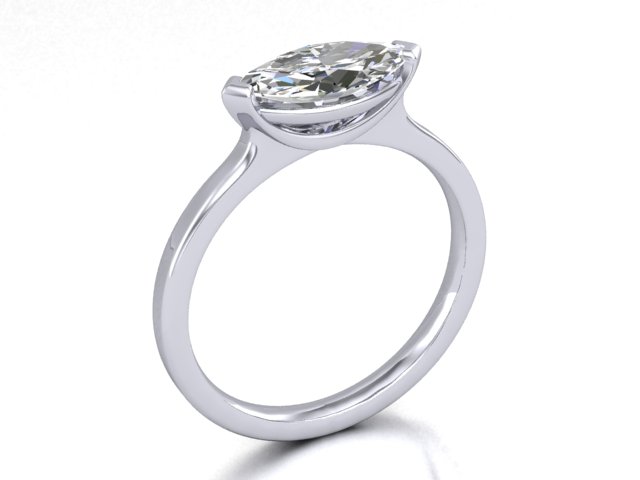 A marquise cut diamond features 58 facets and an elliptical shape with pointed ends. And its traditional, long, narrow shape looks stunning on a ring finger, often credited for making a finger appear longer and more slender. Often named Best Engagement Ring, our marquise cut engagement rings continue to be a popular choice.
Oval cut engagement rings are becoming increasingly popular for those who want something a little different from round and square cuts. The elegant shape of an oval cut diamond ring can help elongate your finger and makes the most of the diamond's natural beauty.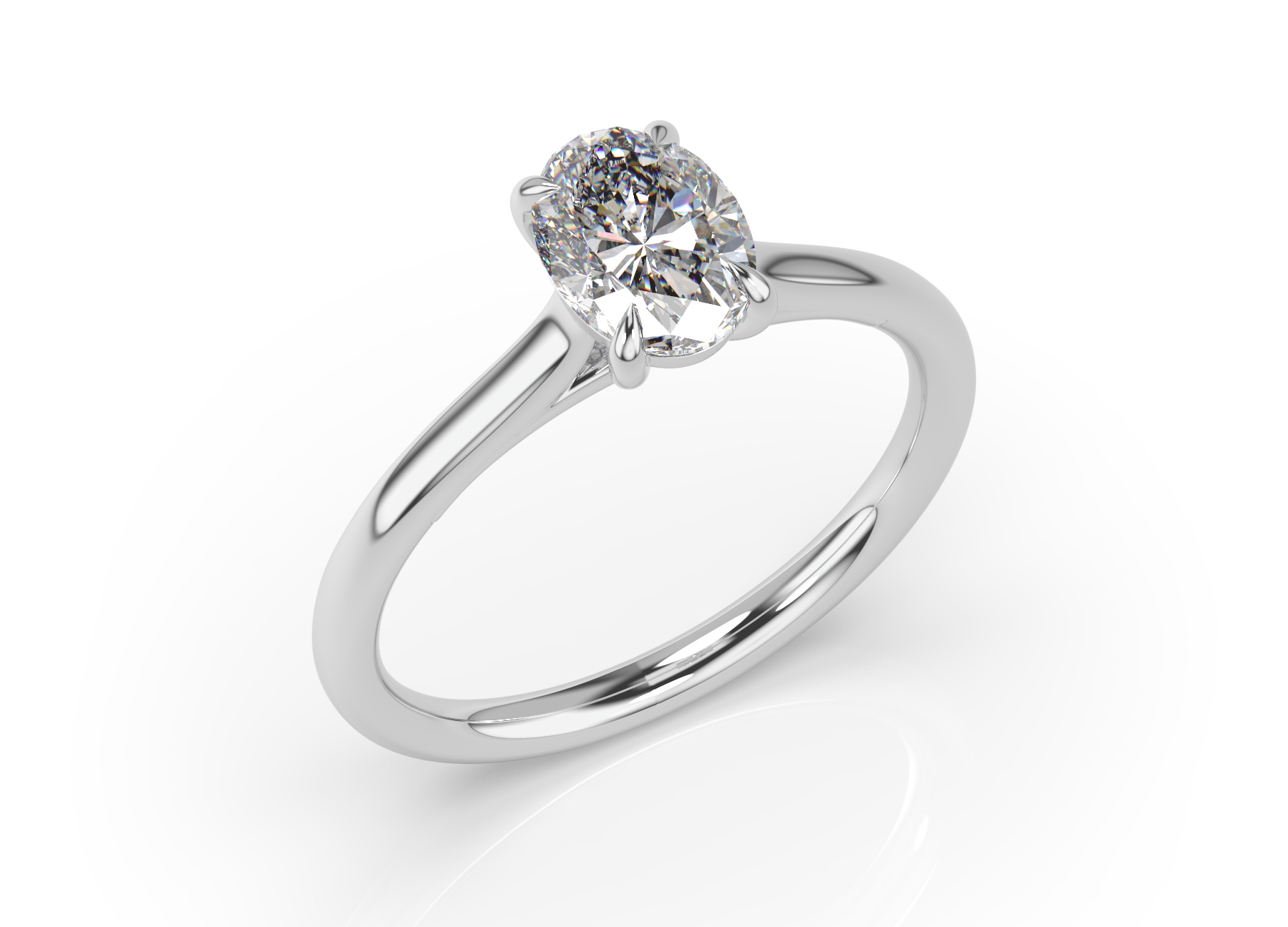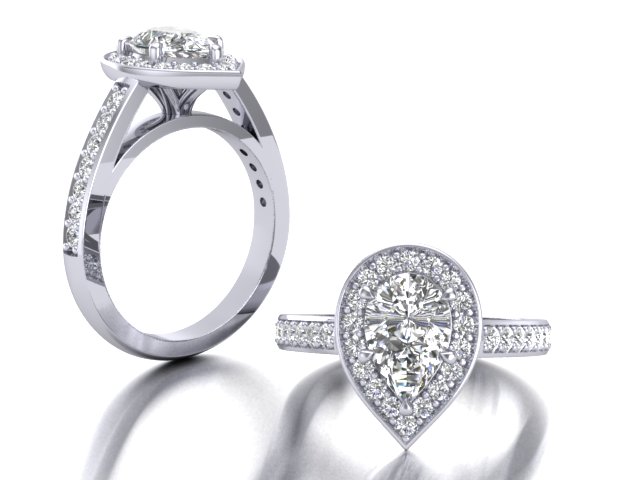 A pear shaped diamond should have one semicircular end, evenly rounded shoulders, gently curved sides and come to a point at the other end.  This shape is perfect for that vintage, art deco or contemporary engagement ring design. Due to this unique silhouette it will surely catch peoples attention. 
Created in 1961 as the more contemporary alternative to the round cut, a princess cut diamond is a unique square shape that is designed to maximise the diamond's brilliance and sparkle. Featuring over 50 facets, the princess cut is usually placed in a four prong setting for security.
Radiant-cut diamonds are some of the sparkliest on the market. Invented in 1977, this diamond cut is the most modern diamond shape. However, it can still look like a classic. Whether elongated or square-shaped, a radiant-cut diamond will stand out from the crowd, giving your engagement ring a unique look.
Asscher cuts look similar to emerald cuts with the most obvious difference being that they are square, as opposed to rectangular. This cut features large step facets and a high crown that produces a brilliance unlike any other diamond shape. In fact, diamond experts often refer to the shine and sparkle of an Ascher cut diamond as an endless hallway with reflective mirrors.
Round Brilliant Cut Rings
Originally created in 1919, the round brilliant has 58 facets, which is what allows this cut to appear very brilliant and full of fire. Thirty three of those facets are located on the top half of the diamond, called the crown, and twenty five on the pavilion, or the cone shaped bottom part of the diamond. Round brilliant Cut diamonds can be used in any style of engagement or dress ring, they are very versatile.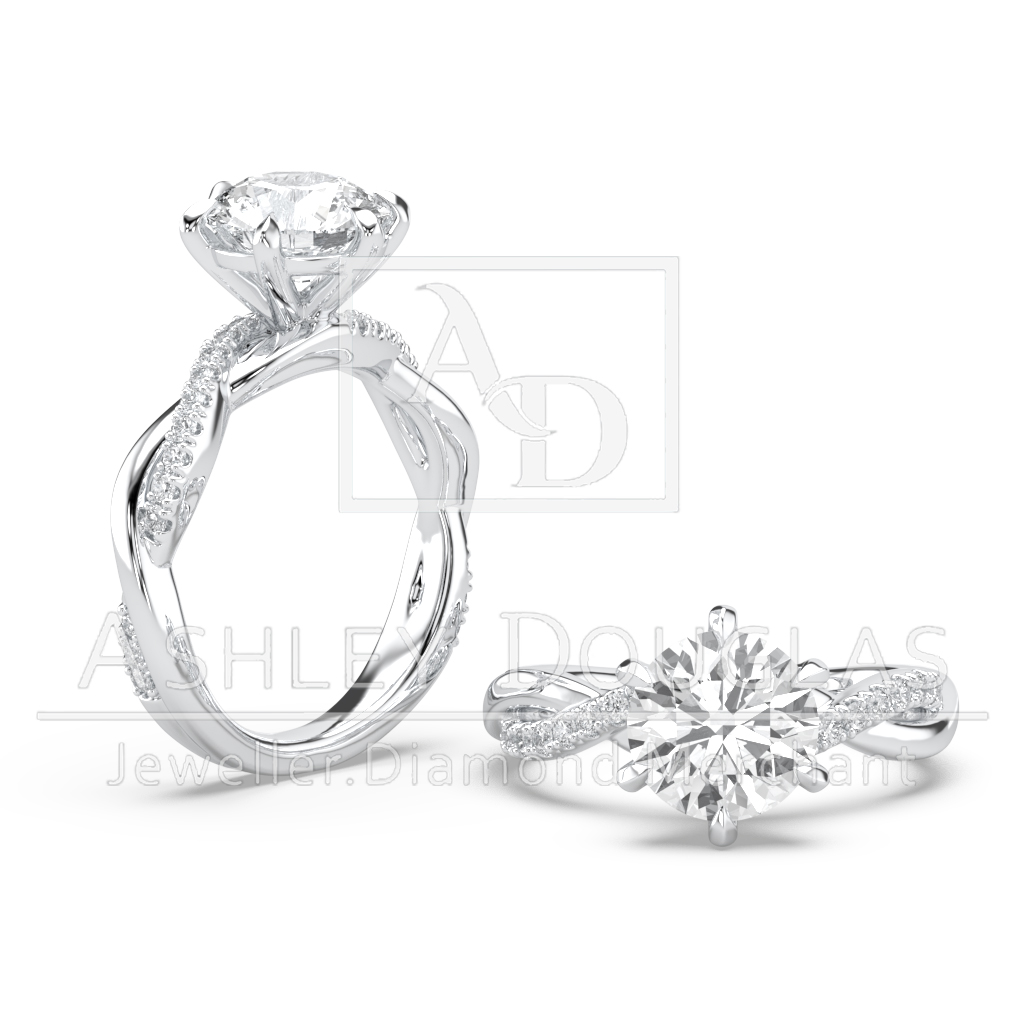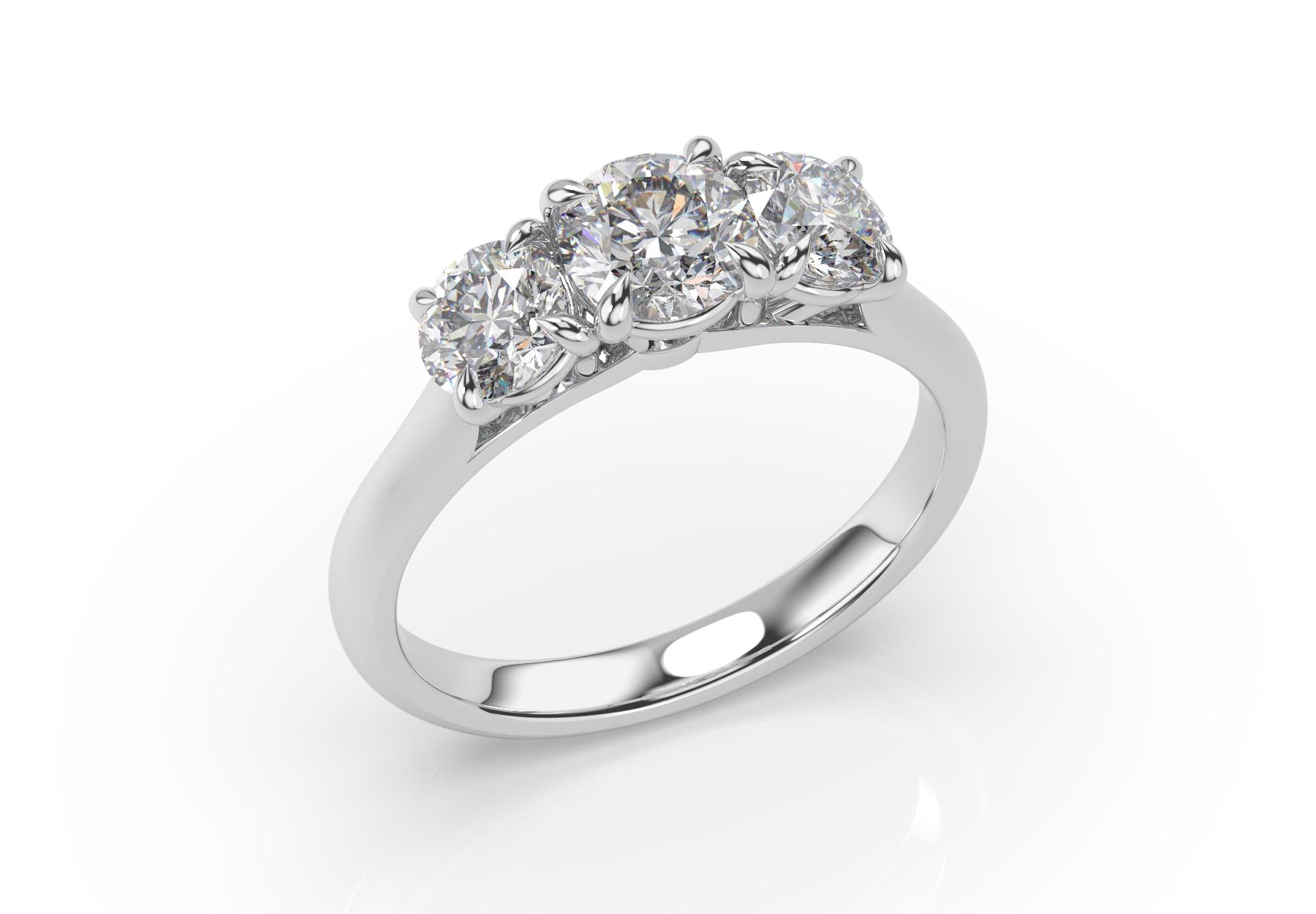 Trilogy Ring Styles can have the symbolic meaning of past, present and future of a relationship this is why they are a popular choice for Engagement Rings. Trilogy designs can be customised using different diamond cuts for the centre and side stones to make them unique to the wearer. A very popular style of trilogy is an oval centre diamond with pear cuts to the sides but you can mix and match the diamond cuts to get the exact style you are after. All of our Trilogy Ring Designs can be customised.
"We would like to immensely thank you for the care and craftsmanship you put into the making of our beautiful wedding rings. Just as it was a pleasure designing them with you. These rings will continue to be a pleasure to us forever".