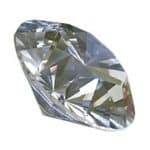 Many people are at odds with the thought of wearing engagement and wedding rings that support conflicts, unsafe work practices, inequality and child labour, and why wouldn't they be?
If you care about how the ring that symbolises your love for one another is produced, conflict and cruelty-free man made diamonds are the perfect choice for you. The right engagement ring has the power to transform the way you feel, and not only how you feel when wearing beautiful jewellery. By choosing an ethical engagement ring set with conflict-free, man made diamond, you're also helping to transform the Diamond industry and reduce its impact on the environment.
Ashley Douglas is delighted to present to couples searching for the ring that says it all, our ethical, man made diamond engagement ring collection. Responsibly sourced from one of the largest and most sophisticated manufacturers of man made diamonds, these exquisite diamonds are produced to deliver unrivaled quality, and there is no need to worry about conflict diamonds as you are supporting a new and innovative technology  which removes conflict diamonds from scenario altogether.