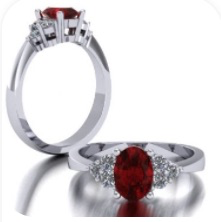 Custom-Made Dress Jewellery
Operating from our open-plan workshop in the heritage-listed Brisbane Arcade for over 20 years, Ashley Douglas are Brisbane's custom engagement ring specialists. Along with an exceptional selection of customisable engagement and wedding ring designs, we offer a range of dress ring and jewellery designs, including pearl pendants and diamond earrings, all of which are customisable to match your personal style and preferences.
Dress rings

All our dress ring designs can be customised or we can take your ideas to help you create a custom-made ring that's truly unique. Our selection embraces everything from sleek minimalist designs with a single gemstone through to elaborate eternity rings set with rows of princess cut diamonds.
We work with all materials, from yellow, white and rose gold through to sterling silver, platinum and palladium. We offer an extensive selection of diamonds and gemstones, including sapphires, rubies, emeralds, topaz and more.
To book a complimentary consultation with our expert jewellers, please email or call Ashley Douglas on (07) 3012 8112.
Display 60 Products per page